Bring Back Lost And Overdue Patients To Your Practice
Bring Your Patients Back With The Experts In The Patient Appointment Lifecycle™
Reactivate Lost Patients
Did you know that around 25% of patients are overdue or lost from medical practices? These patients might have walked out without making a follow-up doctor appointment, they might not have responded to your calls or maybe patient recall efforts fell short. No matter what the reason, Brevium finds these patients and employs automated patient engagement solutions and reactivation efforts to bring them back.
Brevium can make custom-fit solutions to meet your practice's goals with our patient engagement platform. It uses patient data such as disease states, providers, locations, referrals and insurance to set conditions for follow-up and care intervals for these patients. The system will then reactivate patients through multiple mediums including text, email, auto calls, live calls and postcards.
You can also customize which doctors and locations will take returning patients, so you can better fine-tune your patient loads.
About Our Demos
Call duration: 30 minutes
We'd be happy to discuss your specific goals and help design a patient reactivation strategy that meets your needs. What we'll discuss:
Current objectives
What systems you are currently using
What's working, what isn't
A quick overview of Brevium patient reactivation
We'll answer any questions you have
We can't wait to show you Brevium. There's no obligation to buy, of course, but you'll get a good look at the value we can bring to your patients and business.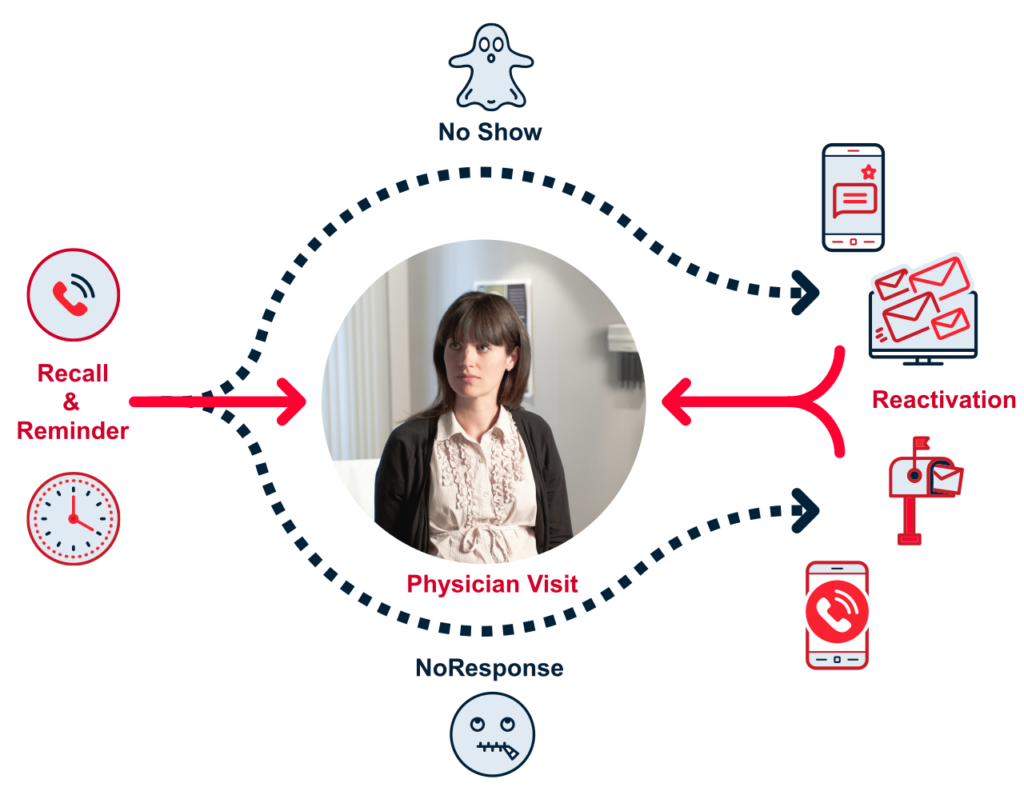 Increase Patient Reactivation
According to the ALOHA study, making 4-5 patient contact attempts using multiple methods, and doing this over an extended period of time, can increase patient reactivation rates by 81 percent. Doing that on your own would be tedious and difficult, but not with Brevium. Brevium uses patient engagement software that employs automated methods to reach out to lost and overdue patients using multiple contact methods over time.
Our Brevium patient appointment lifecycle™ software supports a variety of outreach methods. We can do appointment reminders via text, email, automated calling, postcards, letters and live calls. To select the kind of outreach method you want Brevium to use, simply use Brevium Autopilot. You'll be able to select the types of outreach methods, order of use and contact frequency. Live calls are also conveniently set up for you using Brevium's Caller software.
Reach (The Ability To Contact A Patient) Varies By Method. It Is Important To Vary Methods Used And Know The Reach For The Methods You Select (I.E., Whether Patients Have A Valid Email Address Or Possess A Phone Capable Of Receiving Texts). So, stop losing patients, and reactivate them with Brevium's patient engagement platform.
At Least 4-5 Reactivation Outreach Attempts Is Optimal
Success Increases When Reactivation Outreach Methods Are Varied
Examine And Know The Reach Of Contact Methods